Hello everybody. That is a collection of House's posters made by me…some of the most memorables episodes (for various reasons such as prizes, audiences or popularity). They are not necessarily my favorites and some of my favorites are not here. I realize that many hits still missing here (Autopsy or Birthmark, for example). Anyway, that is my collection (incomplete and unofficial) of House's posters with descriptions of some episodes (thanks to Housecaps, Blogcritics, Tv.com, wikipedia and Wikiquote). I hope you like it.







Episode Pilot - 1x01



The episode pilot, also known as "Everybody Lies", premiered on the FOX network on November 16, 2004. It introduces the character of Dr. Gregory House, an antisocial but brilliant doctor and his team of diagnosticians at the fictional Princeton-Plainsboro Teaching Hospital, in New Jersey. The episode features Dr. House's attempts to diagnose a kindergarten teacher Rebecca Adler (Robin Tunney) after she collapses in class.

Christopher Hoag, who composed the music for "Pilot" was nominated in the 2005 Primetime Emmy Awards for Outstanding Music Composition for the episode and David Shore received a Humanitas Prize nomination for writing the episode.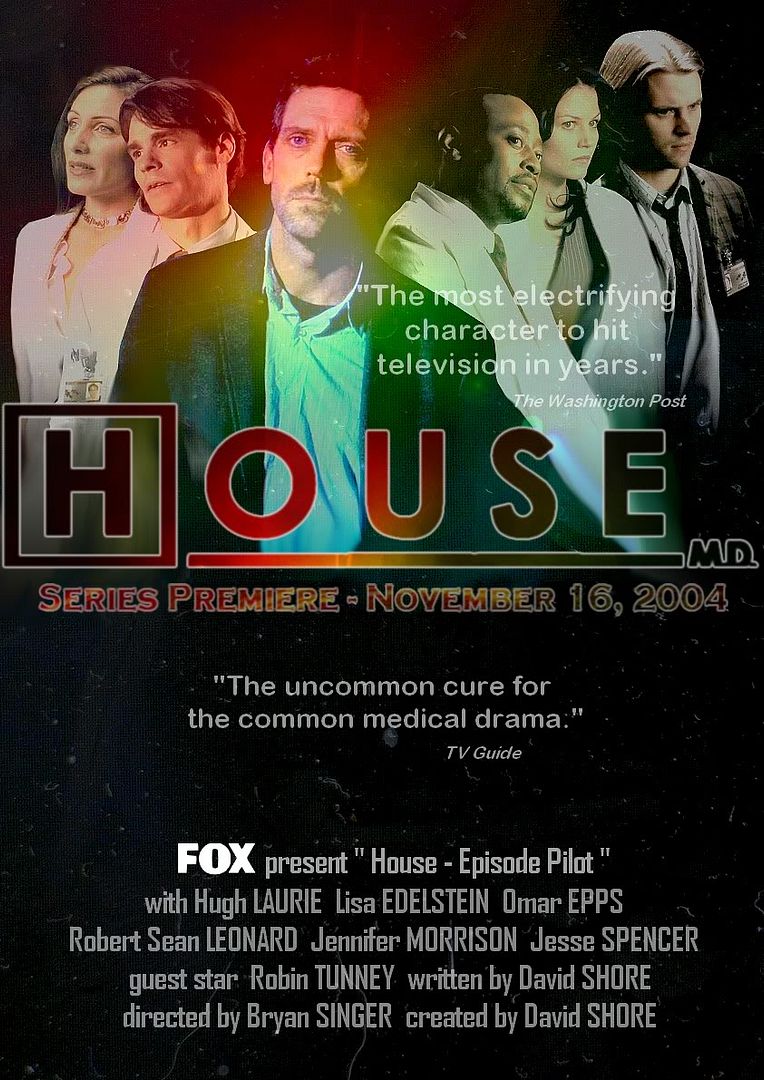 (Large Size)

"Our bodies break down, sometimes when we're 90, sometimes before we're even born, but it always happens and there's never any dignity in it. I don't care if you can walk, see, wipe your own ass. It's always ugly - always! We can live with dignity - we can't die with it. "

Gregory House, 1x01




Three Stories – 1x21

"Three Stories" was first broadcast in the United States on Fox on May 17, 2005. Shore won the Primetime Emmy Award nomination for Outstanding Writing for a Drama Series and, in addition, also received the 2006 Humanitas Prize in the 60 Minute Category."Three Stories" is also responsible for the show's Peabody Award win in 2005. Barclay was nominated for a Directors Guild of America Award.
House agrees to lecture on diagnostics in place of the sick Dr. Riley, in exchange for two hours free from clinic duty. On his way over to the lecture theatre, he encounters his ex-girlfriend, Stacy Warner (Sela Ward), whom he has not seen in years. Stacy wants him to treat her husband - whom she believes to be sick. House's lecture consists of three different scenarios, all previous cases House has diagnosed; all three patients complain of leg pain. The patient in the third scenario was House. A flashback shows House diagnosed himself with muscle death.
Matt Zoller Seitz placed the episode second on his list of 2005's best individual television episodes, calling it a "high-point" for the show. Maureen Ryan of the Chicago Tribune praised the episode for its "twisty, smart and moving storytelling".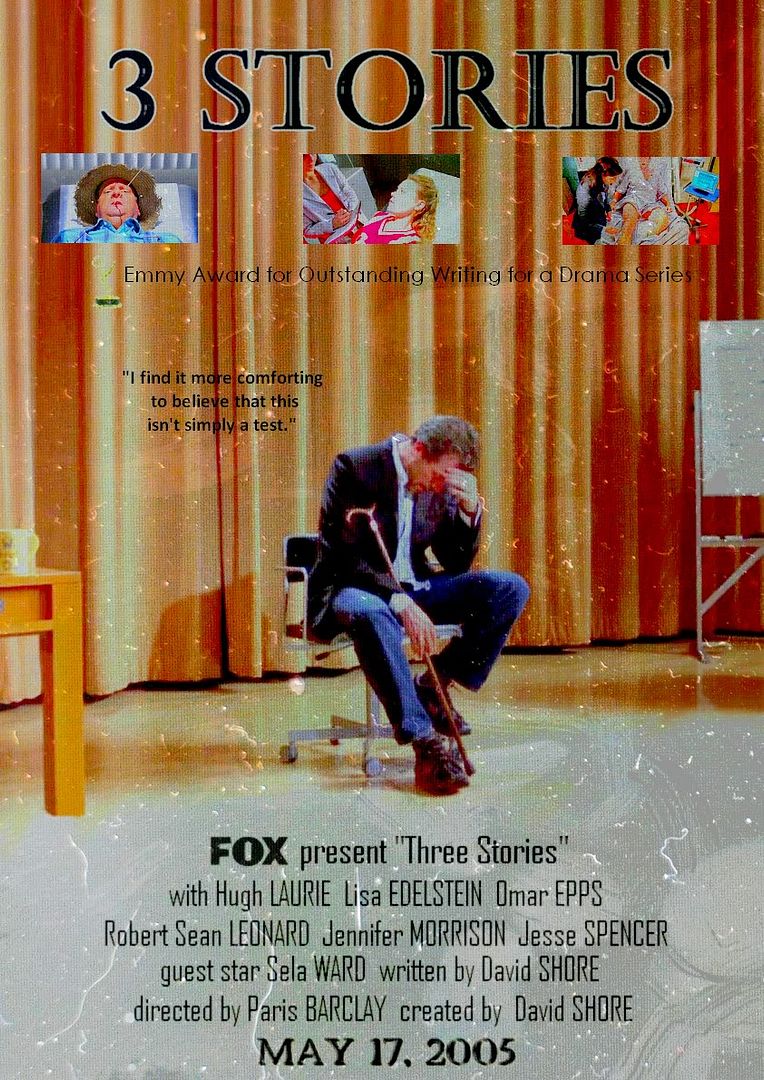 (Large Size)
"I find it more comforting to believe that this [the life] isn't simply a test."

Gregory House, 1x01


Euphoria I & II – 2X20 & 2X21


"Euphoria, Part 1" is the twentieth episode of the second season of House, which premiered on the FOX network, on May 2, 2006. This episode is the first half of a two-episode story arc, the second half being "Euphoria, Part 2", on May 3, 2006. When a police officer with a gunshot wound to the head and uncontrollable laughter is admitted, House and the team are baffled. When Foreman begins showing the same symptoms, they race to determine the cause of the illness before Foreman's condition takes the same path.
According to Diane Kristine Wild (Blog Critics), "Omar Epps was the hero this time, taking anguish, rage, and questionable actions." He wins two NAACP Image Awards for Outstanding Supporting Actor in a Drama Series.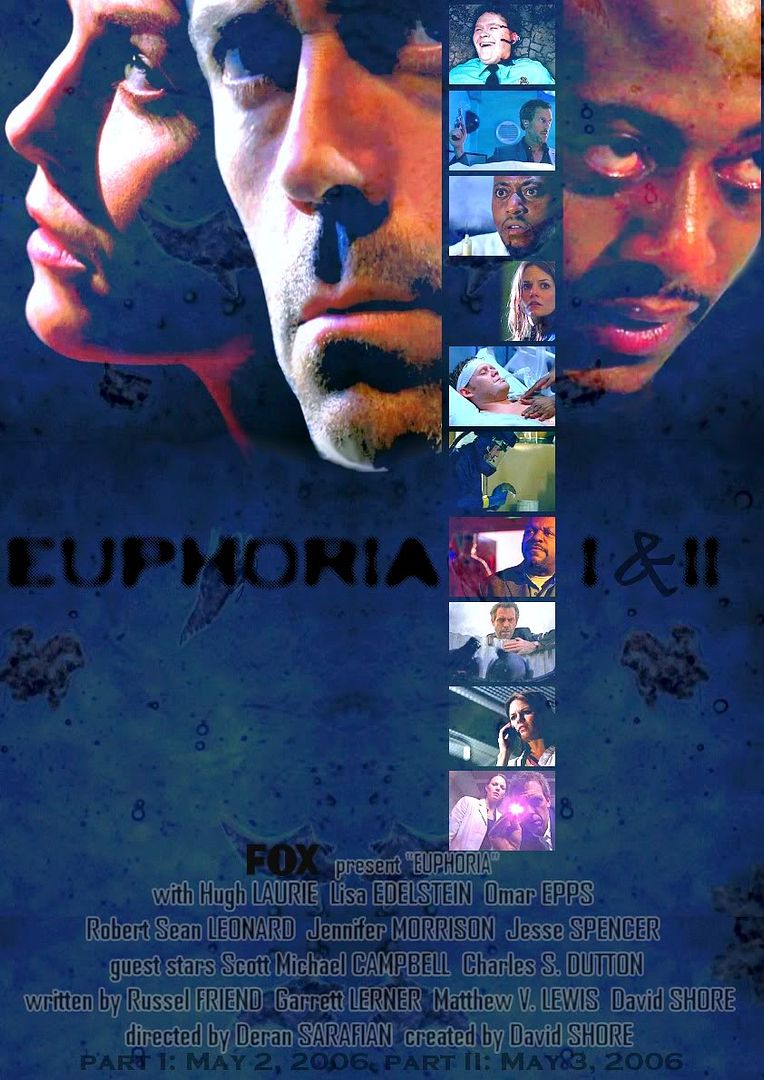 (Large Size)

"Pain makes us make bad decisions, fear of pain is almost as big a motivator."

Gregory House, 2x21

No Reason– 2X24

No Reason" is the twenty-fourth episode and the season finale of the second season of House. It premiered on the FOX network on May 23, 2006. The episode features creator David Shore's directorial debut.

As House and his team are working on the diagnosis of a man with a giant, swollen tongue, the husband of a former patient walks into House's office and shoots him. House continues to treat his patient from his ICU hospital bed with the shooter, who has been shot by hospital security and hand-cuffed to his bed, as his roommate. When the after-effects of the shooting begin to impact House, he starts to question his own ability to diagnose properly. As his patient's body deteriorates, House struggles through his self-doubt and must trust his team to find a way to solve the case.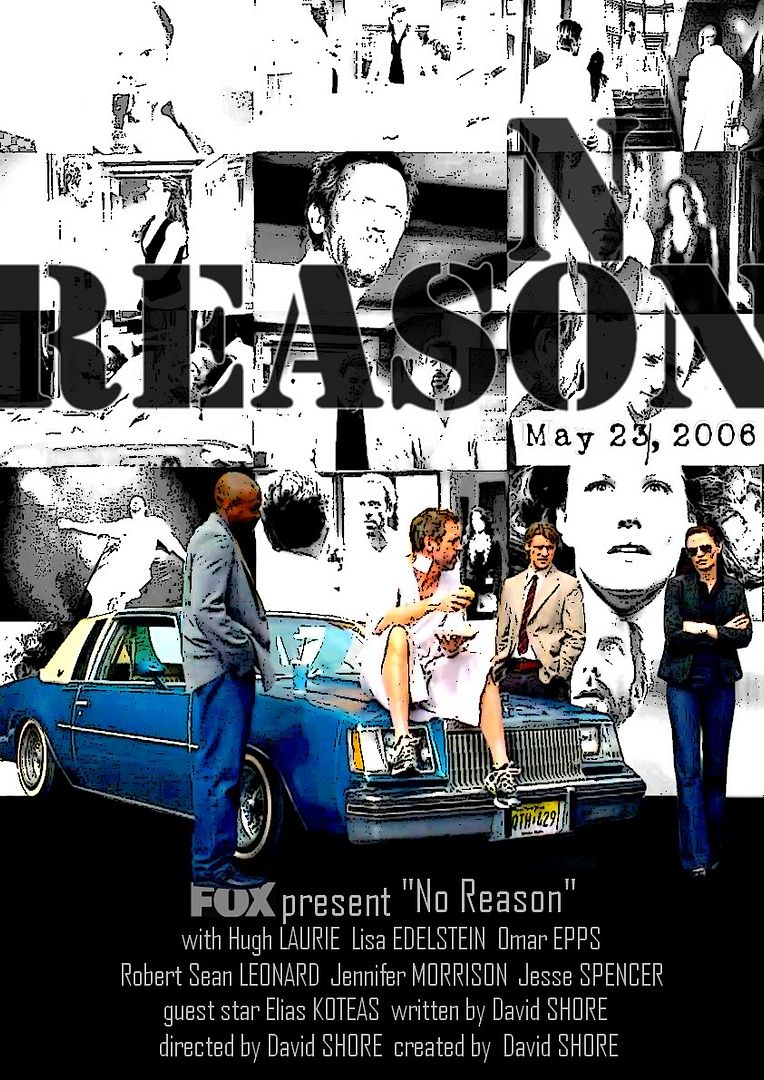 (Large Size)


"Did you really think that your life's purpose was to sacrifice yourself and get nothing in return? No. You believe that there is no purpose. To anything. Even the lives you save you dismiss. You turn the one decent thing in your life and you taint it, strip it of all meaning. You're miserable for nothing."

Moriarty to Gregory House, 2x24




Half-Wit - 3x15


"Half-Wit" is the fifteenth episode of the third season of House and premiered on the FOX network on March 6, 2007. Grammy-winning singer/songwriter Dave Matthews guest stars in the episode as Patrick, a savant and piano prodigy who comes under the care of Dr. House for a rare movement disorder. Dr. House also is suspected to have cancer by his staff. Also appearing is actor Kurtwood Smith. The episode marks the directorial debut of executive producer, Katie Jacobs.
Hugh Laurie was nominated for the Emmy of Outstanding Lead Actor in a Drama Series for his performance as Dr. Gregory House in this episode.


(Large Size)


"You kissed back."
Allison Cameron to Gregory House, 3x15




Frozen - 4x11

"Frozen" is the eleventh episode of the fourth season of House and the eighty-first episode overall. It aired on February 3, 2008, following Super Bowl XLII; it attracted slightly more than 29 million viewers.
House and his team have to diagnose a case at a distance when a researcher at a South Pole base is taken ill.

This is the 2nd episode of the show to have an Academy Award winner as guest star - Mira Sorvino ( the first one was Informed Consent with Joel Grey).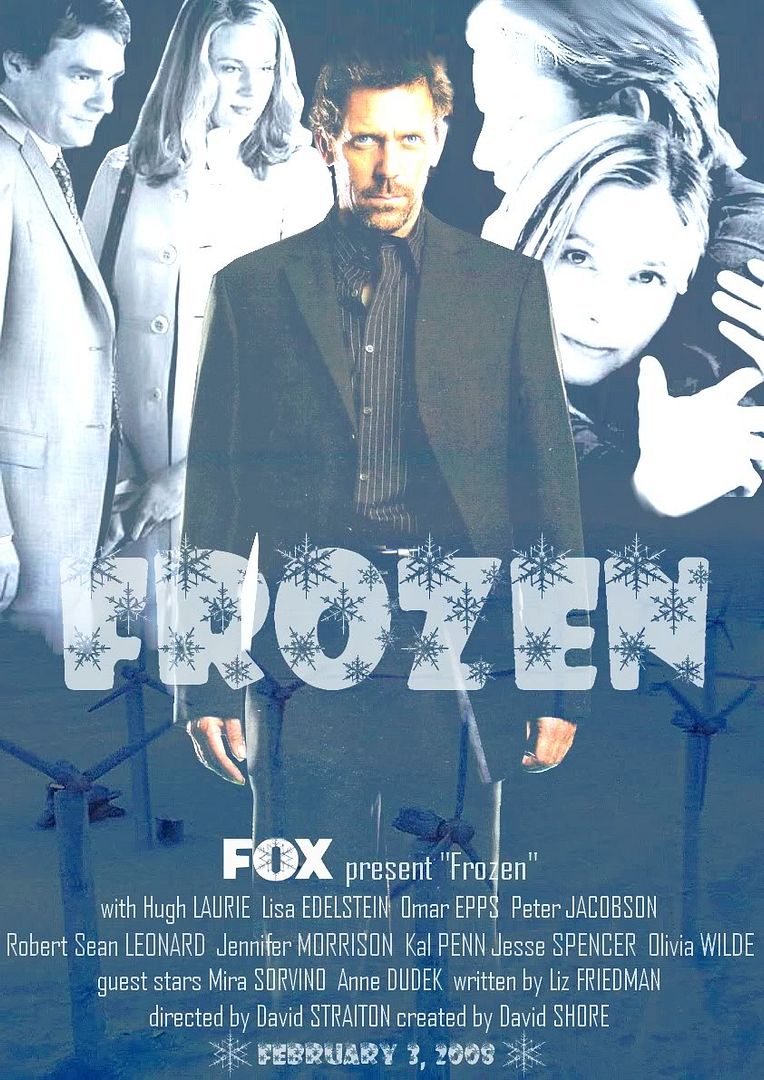 (Large Size)


" I never said you needed fixing. "
Cate Milton to Gregory House, 4x11


House's Head- 4x15

"House's Head" is the fifteenth episode of the fourth season of House and the eighty-fifth episode overall. It was the first part of the two-part season four finale, the second part being "Wilson's Heart". Co-written by several House producers and directed by Greg Yaitanes, "House's Head" premiered on May 12, 2008 on Fox. Greg Yaitanes won the Emmy for "Outstanding Directing for a Drama Series".
The episode revolves around House, who, after being involved in a bus accident, vaguely remembers seeing someone who is "going to die". House tries to trace back his steps throughout the episode to find out the identity of this person. A woman (Ivana Milicevic) who claims to be "the answer", guides House through hallucinations about the crash. House eventually realizes that "the answer" is Amber, who is revealed to have been on the bus when it crashed. The episode ends in a cliffhanger ending , leaving Amber's survival unknown.


Sara Morrison, from Television Without Pity, called the moment that House gets back his memory "the best ten minutes of television you might ever see". Morrison graded the episode with an A+. Michelle Romero, of Entertainment Weekly, said that she can watch "House's Head" twice and get as much out of the second viewing as the first. TV Guide's Gina Dinunno stated: "It's everything I imagined: brilliant, snarky, confusing; even dirty! They did an amazing job at leaving us with the cliffhanger of all cliffhangers as we wait to see what will happen to Amber. Barbara Barnett, of Blog Critics, said that, although there were many "memorable moments" in the episode, the scene in which the bus crashed was "intense", "tension-filled" and "heart-stopping".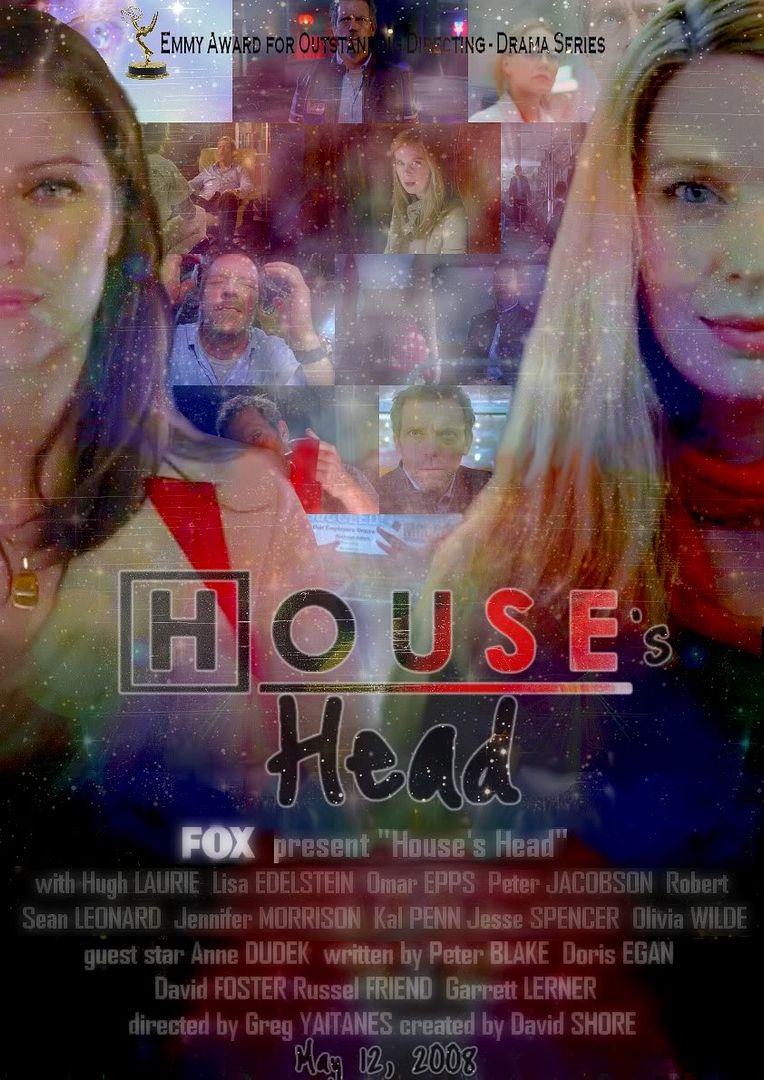 (Large Size)

"You believe in reason above all else. There must be a reason."
"The Answer" to Gregory House, 4x15


Wilson's Heart- 4x16

"Wilson's Heart" is the sixteenth episode and season finale of the fourth season of House and the eighty-sixth episode overall. It aired on May 19, 2008. It is the second and final part of the two-part fourth season finale.
House and Wilson go to the hospital to check on Amber, who had her kidneys destroyed in the crash. The symptom House recalled was that Amber had taken a heavy dose of flu pills moments prior to the bus crash. The crash trauma caused damage to her kidneys which made them unable to filter out the Amantadine the pills contained. Wilson suggests kidney dialysis, however House tells him that when unfiltered, Amantadine binds to proteins in the body and becomes poisonous and there is nothing they can do to save Amber.
Mara Greengrass of Firefox News praised the drama and acting of this episode, including the performances by Hugh Laurie and Robert Sean Leonard. According with Barbara Barnett "Wilson's Heart" was "the heart-stopping, heartbreaking conclusion to "House's Head"".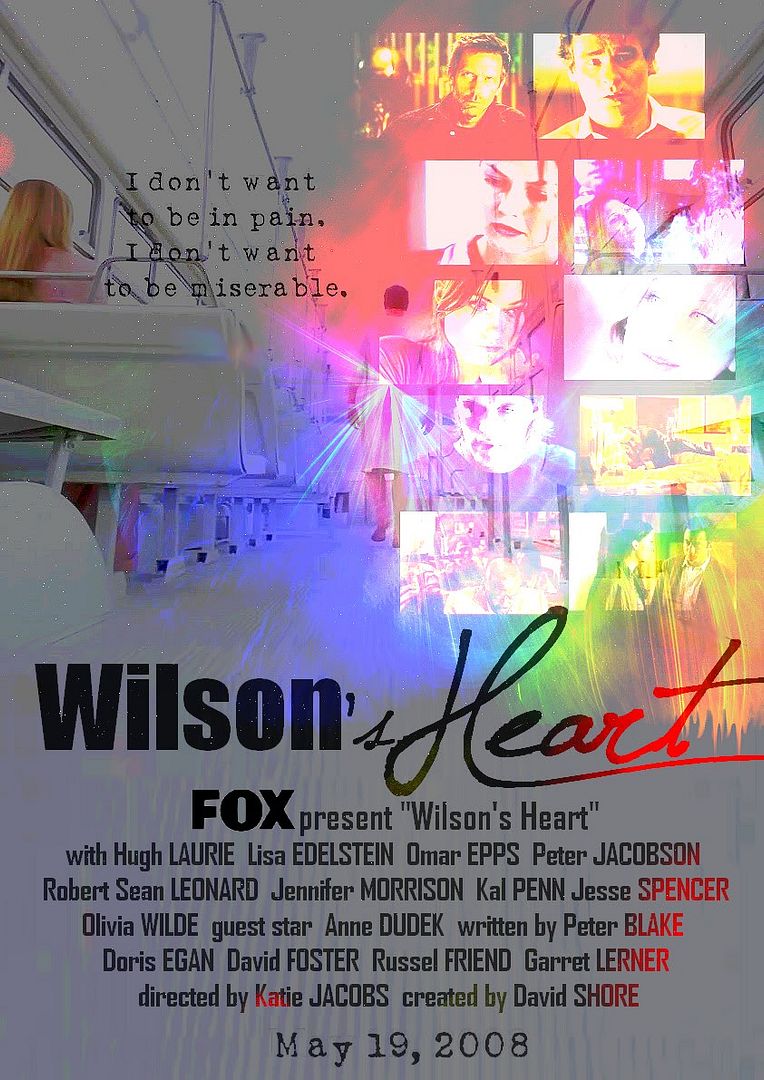 (Large Size)
"Get off the bus."
Amber Volakis to Gregory House, 4x16

Locked in- 5x19

What would it be like to see House through a patient's eyes? That is the perspective with which we are provided in "Locked In," House, M.D.'s 19th episode of season five. House is injured in a motorcycle accident in Middletown, NY and finds himself in bed next to a patient (Mos Def) suffering from locked-in syndrome after a bicycling accident. His attending doctor diagnoses brain death, and suggests transplanting his heart into another patient. House notices the patient following the doctors with his eyes, and is immediately interested in taking up his case. Communicating through blinking, the patient requests transfer to Princeton Plainsboro.
"Locked in" is #1 on "TV's 50 Best Episodes of 2009" according with Buddy Tv. Hemal Jhaveri of TVSquad described the episode as "excellent".

"A man with only two words at his disposal can still lie."
Gregory House, 5x20


Simple Explanation- 5x20

During " Simple Explanation", the team deals with an older woman who has been tending to her dying husband but is stricken down with an unknown disease that threatens to kill her before her husband. However, they must overcome their own emotions when a tragedy strikes one of their members: Kutner's suicide.
Kutner's suicide was scripted due to actor Kal Penn's decision to accept the position of Associate Director of the White House Office of Public Liaison in President Barack Obama's administration. Entertainment Weekly commended the show's handling of the death, believing that it was presented in a dramatically effective and realistic manner.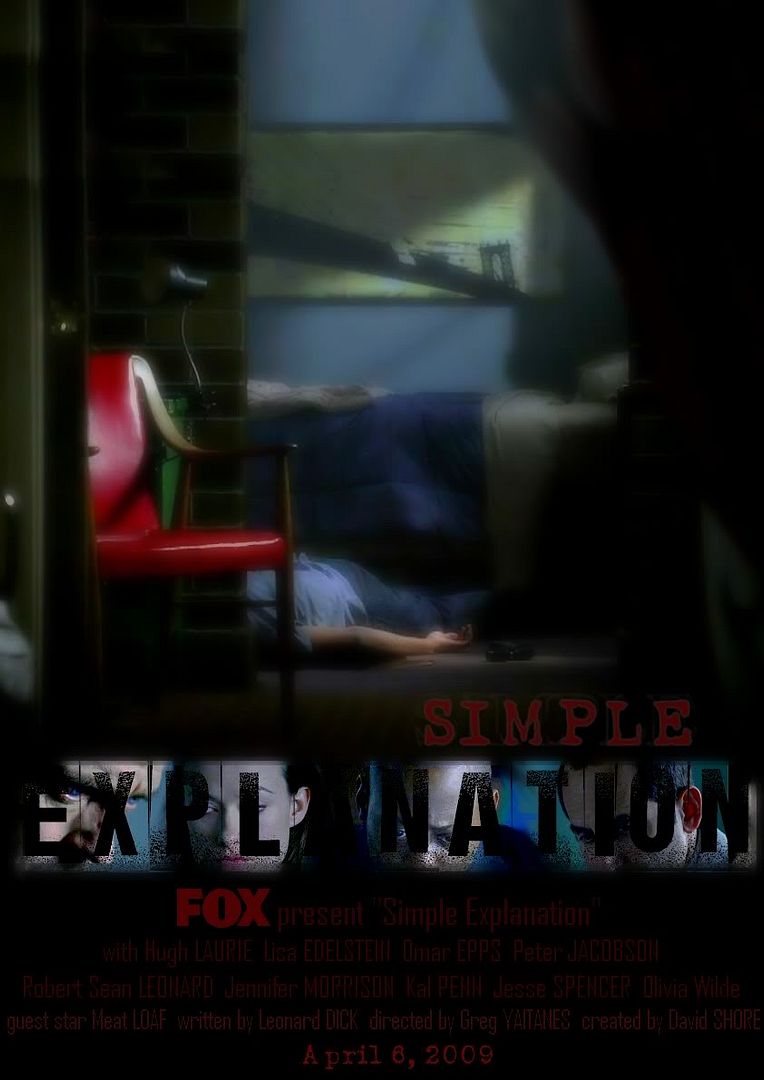 (Large Size)

"Living in misery sucks marginally less than dying in it."

Gregory House, 5x20


Broken- 6x01 & 6x02

"Broken" is a two-part season premiere, being first broadcast on the FOX network on September 21, 2009. The narrative follows House as he overcomes vicodin addiction at Mayfield Psychiatric Hospital.
The only series regulars to appear in this episode are Hugh Laurie and Robert Sean Leonard. Andre Braugher is Dr. Darryl Nolan, he refuses to sign a recommendation to the board of medicine saying House is able to return to work. House resigns himself to stay at the hospital and get his clearance. He meets his manic-depressive roommate, Alvie (Lin-Manuel Miranda), and begrudgingly participates in group therapy with Dr. Beasley. He also meets and is intrigued by Lydia (Franka Potente), a woman who plays piano for her sister-in-law, an unresponsive patient in the ward who was a musician.
"Broken" receiving season-high ratings and the episodes garnered positive reviews from critics. The performance of Hugh Laurie was also applauded. The episode also won for Best Episodic Drama at Writers Guild of America Awards 2009.
"Successes only last until someone screws them up. Failures are forever."
Gregory House, 6x02

Lockdown- 6x17

"Lockdown" has five storylines: When the hospital is sent into lock-down mode due to a missing infant, all of the doctors must remain where they are, leaving Foreman and Taub in the file room, Wilson and Thirteen in the cafeteria playing truth or dare, House in a room with a patient (David Strathairn), and Chase with his soon-to-be ex-wife, Cameron, as Cuddy tries to help police locate the infant. This episode marks Jennifer Morrison's return and the directorial debut of Hugh Laurie on the show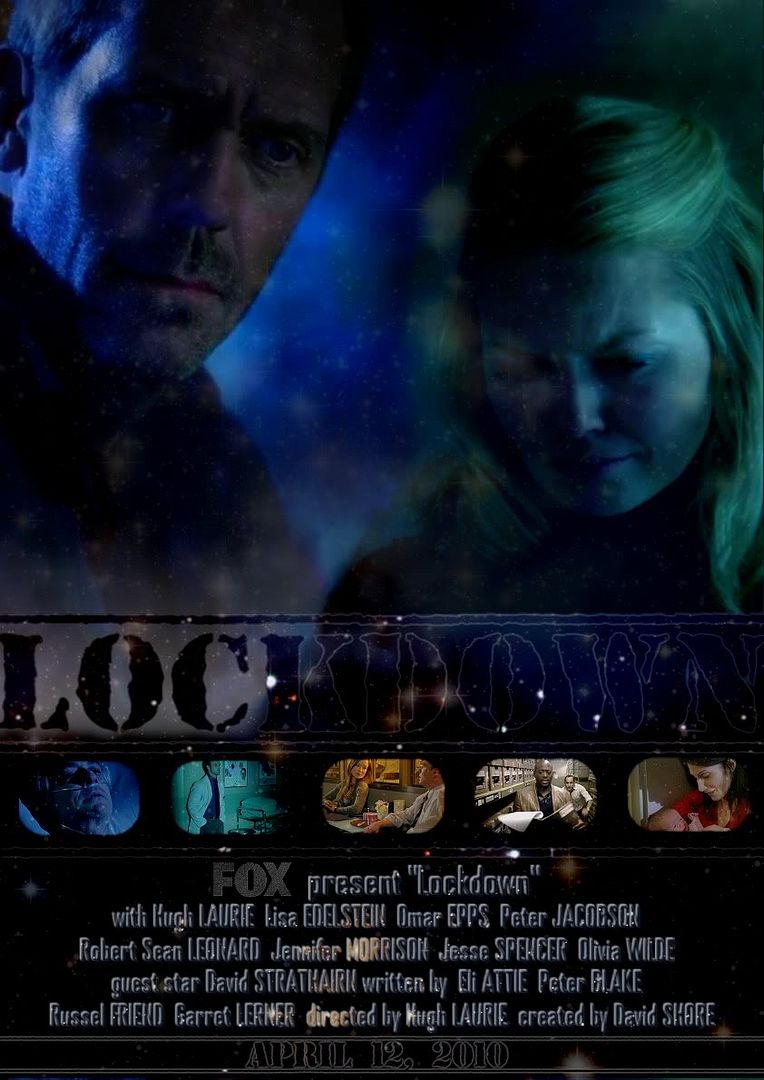 (Large Size)


Omnes te moriturum amant ("Everyone loves you when you are about to die")
Latin inscription on the wall above the hospital door



I hope you enjoyed. If you like it, print your favorites for your bedroom or office, as Wilson did. =)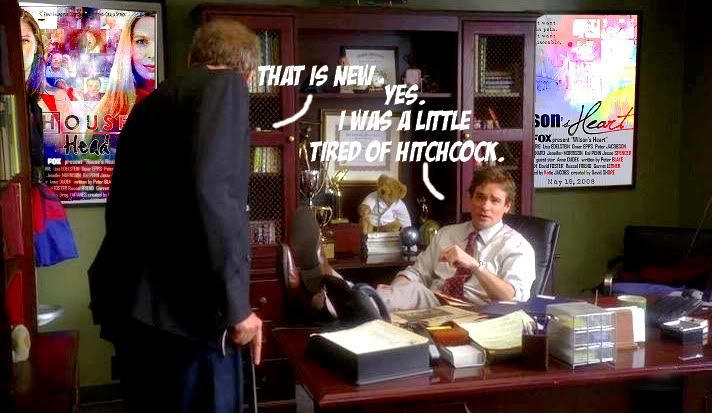 *Comments are love*